ServiceMaster Clean of Ottawa is 140 people strong. Our teams are handpicked for their positive attitudes and their commitment to do the job right the first time. We hire the best people and train them to work as an extension of your staff, devoted to making your home and your facilities run well and look great.
With experience in serving many industries, our expertise serves as shorthand to understand your compliance and security-related issues, as well as help us to develop and utilize the most effective and advanced cleaning methods and materials for your business environment. Our employees are security cleared and our subcontractors receive quarterly security clearance checks. We are IICRC-certified company.
ServiceMaster Clean of Ottawa understands the importance of insurance including WSIB and general liability. We want to make sure that both our customers and our employees are fully protected.
As a member of a national network, we rely on 70 years of proven expertise in commercial, residential, and janitorial cleaning services and safety and accessibility modifications. We leverage the research and development that goes into advanced cleaning technologies and methods. Backed by national resources, we are trained on advanced technologies, state-of-the-art equipment, and processes.
Our people offer you the highest level of performance.
At ServiceMaster of Ottawa our advanced technology refers to two approaches: cleaning and information technology (IT).
Go Green
ServiceMaster of Ottawa uses a patented Go Green Cleaning System to protect human health without harming the environment. The Ottawa Chapter of BOMA (Building Owners and Managers Association) is at the forefront of managing and creating buildings in a more resource efficient manner that will reduce negative impacts on health and the environment. Green cleaning is a component of this overall strategy, and plays a significant role in helping Property Managers, Facility Managers, and Building Owners achieve the "BOMA Go Green" certification.
Advanced cleaning technologies deliver health and safety benefits to people who live in the homes that we clean and to the workers who work in the buildings that we clean. Learn more about our environmental stewardship.
Data you can trust
Businesses throughout the world employ advanced technology to increase efficiencies and improve productivity. We do this too and the end result, if you are a Property Manager, Facility Manager or a Building Owner, is that we provide real-time data that you can trust.

Our proprietary janitorial management program is called ServiceLink® powered by CleanTelligent for Janitorial. It tracks and manages all of our janitorial services business functions for all of our customers.

Direction of Commercial Services is a program we use to schedule and manage our service types and monthly maintenance programs.

The ServiceMaster Clean of Ottawa fleet of vehicles is enabled with global positioning systems (GPS) to ensure the fastest route to our customers' locations.
When you select ServiceMaster Clean of Ottawa, you're choosing a Six Sigma company that has pledged itself to continuous improvement and delivering excellent service, from start to satisfaction.
We are ready to serve you:
IF YOU HAVE A CLEANING REQUIREMENT, ServiceMaster Clean of Ottawa HAS THE SOLUTION.
OUTSTANDING SERVICE + EXPERTISE = CUSTOMER LOYALTY
Over 100,000 customers worldwide trust ServiceMaster Clean to clean their facilities each and every day. Our services ensure that their workplaces are clean, healthy, and always looking great. But the true key to our success is our outstanding customer service.
For years, ServiceMaster Clean of Ottawa has been providing expert commercial cleaning services to businesses. Our customers know we are a trusted, progressive and dynamic commercial cleaning company.
We offer advanced cleaning services for all industries and businesses of any size. We have the knowledge and resources to meet all your commercial and corporate cleaning needs. Whether you have a large or small business, in our eyes, every customer is equally important.
RELIABILITY & ACCOUNTABILITY
ServiceMaster Clean of Ottawa is a reliable and innovative commercial cleaning company with years of industry experience. Our customers trust and depend on us.
Our extensive resources, research and development, and our highly trained and experienced people deliver outstanding results and service, every time. We listen to your specific concerns and requirements. This allows us to offer our customers a diversified range of commercial cleaning and disinfection services and solutions. As well as customer cleaning plans to suit the needs and budget of your particular business.
WE'RE DIVERSIFIED. WE HAVE SOLUTIONS FOR ALL YOUR CLEANING AND DISINFECTING REQUIREMENTS.
At ServiceMaster Clean of Ottawa, we provide outstanding janitorial services. We also offer a wide range of specialty commercial cleaning services. We skillfully perform office cleaning services, commercial carpet cleaning, office furniture and upholstery cleaning, hard surface floor restoration and so much more. Whatever the commercial cleaning or disinfecting requirements at your specific business or facility, ServiceMaster Clean of Ottawa has the solution!
ADVANCED PROCESSES, PRODUCTS AND TECHNOLOGY
ServiceMaster Clean is a leader in commercial cleaning. We use safe and eco-friendly cleaning products and procedures. We have developed unique proprietary products and systems to clean and disinfect various areas of your business space. These include high-touch surfaces, carpets, floors, furniture, and more.
INNOVATIVE INDUSTRY LEADER
At ServiceMaster Clean of Ottawa, we are the leaders in the commercial and janitorial cleaning services industry. Our highly trained cleaning technicians use innovative methods to thoroughly clean and sanitize every part of your facility. We understand the importance of maintaining a clean, safe and healthy work and business environment.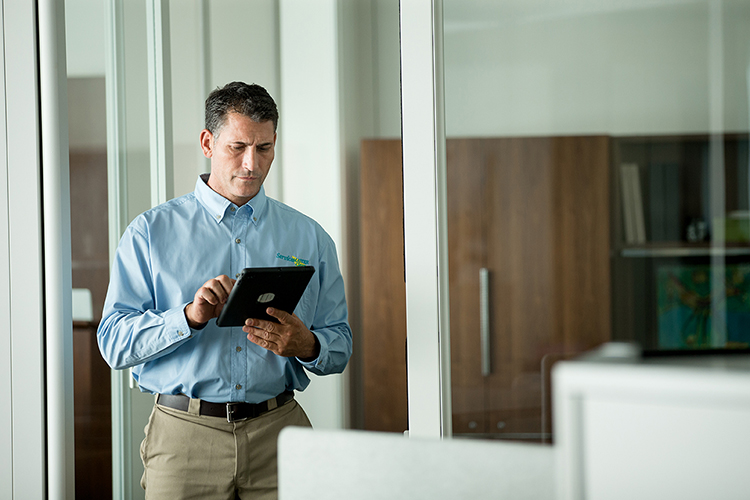 CLEANING FOR A HEALTHIER WORK ENVIRONMENT
We take our commitment to helping to maintain a healthier environment seriously. For this reason, we have developed specific sustainable cleaning principles to guide us in serving our customers. ServiceMaster Clean Green For® products provide eco-friendly cleaning and have minimal environmental impact. They are free of ingredients such as perfumes and volatile organic compounds (VOCs).
Our Green For® products reduce environmental impact. They are safe for all occupants in the workplace, including individuals with asthma and chemical hypersensitivity.
ServiceMaster Clean of Ottawa, strongly believes that communication is one of the most important keys to a successful relationship. Especially in business. ServiceMaster Clean has developed dedicated communication systems to constantly improve our service. Our customers can contact and communicate with us efficiently and fast!
TELLSERVICEMASTER (CUSTOMER SATISFACTION SURVEY SYSTEM)
At ServiceMaster Clean of Ottawa, we are committed to being our very best, so we regularly ask you to tell us how we are doing. Our TellServiceMaster® system, powered by Listen 360®, uses the latest technology to get your feedback on our performance. The system is designed so we can review individual customer feedback as well as our overall performance using the Net Promoter Score (NPS) system.